Project 365 (Day 38)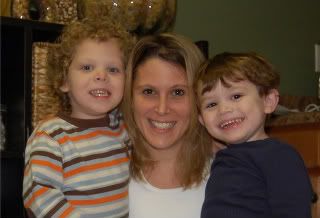 Actually took the time today to get IN FRONT of the camera with the boys. Not the best picture, no make-up, crazy hair, and headed to the gym. But I needed this picture with these two. Especially today.
And another picture with the most willing participant.
Project 365 for yesterday (Day 37) is a scan of my passing test scores for the first part of the teacher certification test. The test that I took on the day that I left the calculator IN THE CAR. I have to admit to worrying about the results of that test for the last month, just because I had to work all the math out in a hurry to get finished. Thank goodness I passed. I could have gotten a much better score, but I'm trying not to let that bother me and thanking God for small favors.